Sunday, 03 March 2013 18:11
By: Mike Garbuzinski
If you're a local resident looking for new ways to connect to nature and to the town's past, then this story is definitely for you. The North Attleboro historic commission has made a proposal to town selectman to turn the historic Codding Farm property into a new cultural center.
The commission gave a presentation in which they envision revamping the farm, widely known around town as the Lestage property, into a multi-purpose agricultural site. The proposal involves using the property as a year-round farm for beginners, teaching classes on nutritional awareness, homesteading and the history of the property and local farming. The farm section would include community garden beds, a mushroom growing project and collaborative workshops with local schools. Officials say that the food produced on the property would be harvested and donated to local pantries or purchased by citizens.
The Codding farm was built in the 1830's, and has since been established as a local landmark by the town. As of now the property is under the stewardship of the North Attleboro board of selectmen, but the historic commission is looking to take over maintenance of the farm as part of the new proposal. The selectmen are now deliberating on the proposal, but there are several factors to consider. Selectman Chairman Michael Thompson stated, "I think it's a really good idea, but I think it's something I want to make sure if we go into it, there's no opportunity for it to ever fail. We need to be cognizant of what the costs are going to be on it and whether we can sustain this thing going into the future."
In addition to raising awareness about farming and the town's history, the commission sees an opportunity to partner with local schools. They would hope to work with Tri-County Regional Technical Vocational School and the Bristol Agricultural School to give students hands-on experience in a farming community.
The final decision has yet to be made, so what are your thoughts on the proposal? Would you like to Codding Farm as a cultural center? Let us know!
Thursday, 21 February 2013 06:36
By Charles Cuthrell
Gerald Hatten "Jerry" Buss, the beloved owner of the National Basketball Association professional team Los Angeles Lakers, died at the age of 80. He passed away this past Monday, February 18, 2013 at the Cedars-Sinai Medical Center due to kidney  failure.
Gerald Buss, known to many as "Jerry" was born on January 27, 1933 in Salt Lake City, Utah but he was raised in Kemmerer, Wyoming. Buss attended the University of Wyoming where he earned a B.S. degree, before later moving to Los Angeles to attend the University of Southern California. There he earned his M.S. and Ph.D in physical chemistry. Buss started out as a chemist and briefly worked in aerospace industry.
Buss' first professional team that he owned was the Los Angeles Strings who were a part of the World Team Tennis. In 1979, he purchased the Los Angeles Lakers of the NBA and the Los Angeles Kings hockey team of the NHL. Buss later sold the Kings, but purchased the Los Angeles Sparks of the WNBA, and moved the teams to the Staples Center, which opened in 1999.
Buss' most proclaimed professional team was the Los Angeles Lakers. Under his ownership, the Lakers won ten NBA championships. Buss had a ways of getting the big stars to play for the Lakers such as Kobe Bryant, Magic Johnson, and James Worthy. Much of the Lakers success is due to the ownership of Buss.
Some of Buss' other hobbies included poker playing. He was a poker player for many years, but later in life he was more active in tournament games. He appeared in different poker shows such as High-Stakes Poker, Poker After Dark, and the World Series of Poker.
Many people have high remarks for Buss. NBA commissioner David Stern said of Buss, "The NBA has lost a visionary owner whose influence on our league is incalculable and will be felt for decades to come." Buss' legacy has left an impact on a lot of people. Buss is survived by his six children: Johnny, Jim, Jeanie, Janie, Joey, and Jessie.
Wednesday, 20 February 2013 18:50
By: Claire Cummings
Francis Albert "Frank" Sinatra, the singer, actor, and leader, was a man for the ages. The legendary singer lived in the spotlight beginning in 1937 and held a spot on the Billboard charts from 1955 through 1995. Sinatra passed Thursday, May 15, 1998 at 10:50 p.m. in Cedars-Sinai Medical Center's emergency room in Los Angeles.
Frank Sinatra was born in Hoboken, New Jersey, on December 12, 1915. Once he saw Bing Crosby perform, Sinatra knew that show business was his own personal calling. After dropping out of high school, he started singing and making a name for himself. Singers Henry James and Tommy Dorsey gave Sinatra his first opportunity to sing as a vocalist. Columbia Records then allowed Sinatra to record and produce his own music from 1943 through 1952. Simultaneously, he began starring in films like From Here To Eternity that won him an Academy Award. His talented acting career consisted of more than 50 movie appearances.
Aside from giving stellar performances in the music and film industries, Sinatra gave back philanthropically. Charities around the world received his donations, totally to more than one billion dollars in his lifetime. Additionally, Sinatra passionately promoted and advocated for the tolerance of all religions and races. Cutting edge in his music, acting, and equality, "Ol' Blue Eyes" Sinatra was a leading force of change.
More than 17 albums later, Sinatra secured an eternal place as the most iconic showman. "Frank Sinatra was arguably the most important popular music figure of the 20th century, his only real rivals for the title being Bing Crosby, Elvis Presley, and the Beatles," said musical critic, William Ruhlmann.
Frank Sinatra started his own record label, Reprise, in 1960. He then went on to found the talented "Rat Pack" with Sammy Davis, Jr. Dean Martin, Peter Lawford, and Joey Bishop. The era of swing and swag was glorified by this group of men. Sinatra's 1939 marriage to his high school sweetheart, Nancy Barbato, ended in divorce. He married Ava Gardner in 1951, and then split and remarried Mia Farrow in 1966. Finally, he divorced and married Barbara Blakely Marx in 1976.
In more than 60 years of performing, Sinatra "demonstrated a remarkable ability to maintain his appeal and pursue his musical goals despite often countervailing trends," said Ruhlmann. His fan base kept growing until his final performance at the age of 82 years old. Even today, Sinatra is appreciated and immortalized through his remarkable contributions to music and the arts.
With the quality of life in his years, Frank Sinatra certainly lived by his own motto: "You gotta love livin' baby, 'cause dyin's a pain in the ass."
Dave Clark Five founder, Rick Huxley, dead at 72
Wednesday, 20 February 2013 16:20
Dave Clark Five founder, Rick Huxley, dead at 72
By Molly Coffee
Bass player and co-founder of the popular Sixties group, Dave Clark Five, died at the age of 72 last Monday, reported BBC.  Rick Huxley was born in Dartford, England on Aug. 5th, 1940.  He was a heavy smoker, who battled emphysema for years.  However, bandleader, Dave Clark, said the bassist had recently been given a clean bill of health.  Clark said Huxley's death was "devastating."  "We'd talk once a week.  I spoke to Rick on Friday, he was in great spirits," Clark said of Huxley.
As part of the British Invasion movement, the members of Dave Clark Five were mere teenagers when they began in 1958 in North London.  According to The New York Times, the group appeared on The Ed Sullivan Show two weeks after the Beatles in February 1964.  The band's song, "Glad All Over" knocked out the Beatles hit, "I Want to Hold Your Hand" for the top spot on the U.K. singles chart.  Other Dave Clark Five hits during the British Invasion include "Bits and Pieces" and "Everybody Knows."  In 2008, the group was inducted into the Rock and Roll Hall of Fame.  The group also starred in a feature film, "Having a Wild Weekend."
The group split in 1970.  Afterwards, Huxley pursued a real estate career while remaining in the music business.  As band mate, Clark, stated, "Rick was a dear friend and an immensely talented musician with an amazing sense of humor, he always made me smile," as Rolling Stone magazine reported  The only survivors left in the Dave Clark Five include Clark and guitarist Lenny Davidson.  Saxophonist Denis Payton and singer/keyboard player Mike Smith died in 2006 and 2008, respectively.  Huxley is survived by two sons and a daughter (dawn.com).
Springsteen's Soulmate Dies at 69
Tuesday, 19 February 2013 19:58
By Carly Heideger
Clarence Clemons, Bruce Springsteen and The E Street Band's beloved soulful saxophonist died Saturday at a hospital in West Palm Beach Florida. He was 69 years old. Mr. Clemons had suffered a stroke earlier last week and the complications continued.
Clarence Anicholas Clemons was born on January 11, 1942 in Norfolk, Virginia to a fisherman father. At age 9, as Christmas gift, he began to play the saxophone, he credits his love for the instrument to King Curtis.
Mr. Clemons was a very gifted athlete. He attended Maryland State College (which is now known as University of Maryland Eastern shore) where he played football on scholarship along with music; a knee injury ended his chances of playing professionally. In the early 1960s and 1970s Clemons began working with music on the Jersey shore, until he met Mr. Springsteen.
Mr. Clemons, come to be known as the Big Man and "the Boss" had a legendary first meeting back in September 1971, in an Asbury Park bar during a lightning storm. Springsteen was playing a gig when the wind blew the door off its hinges and Clarence was towering in the shadows. Mr. Clemons invited himself onto the stage to play with the Boss, and the rest is history. Clemons' recalls the moment "I swear I will never forget that moment, I felt like I was supposed to be there. It was a magical moment. He looked at me, and I looked at him, and we fell in love. And that's still there."
Being an African American during the end of the civil rights movement was groundbreaking in the music industry for a black and white band to mix together. Mr. Clemons wrote in his memoir "Big Man: Real Life and Tall Tales "You had your black bands and you had your white bands, and if you mixed the two you found less places to play." The colors didn't matter, only the sound, very quickly Springsteen's voice and Clemons's sound became the "focal point of the group's sound."
Clemons is also remember for acting in productions such as "New York, New York" and "Diff'rent Strokes". His most recent work was with Lady Gaga on her "Born This Way" album.
He is survived by fifth wife, Victoria and four sons. Mr. Clemons' charisma and soulful sound is remember by all, most especially Mr. Springsteen, "With Clarence at my side, my band and I were able to tell a story far deeper than those simply contained in our music. His life, his memory and his love will love on in that story and in our band." 
Tuesday, 19 February 2013 15:59
            By: Mike Garbuzinski
He was simply known as "The Man". It was a quiet yet dignified nickname for a reserved yet extraordinary individual, and it was a name he never let down. Baseball Hall of Famer Stan Musial died at age 92 on January 19, 2013 at his St. Louis home. He was under hospice care and surrounded by family and friends at the time of his death. 
                Stan the Man is considered to be the greatest St. Louis Cardinal of all time, and one of the game's greatest players. Musial was held as royalty in St. Louis, so much so that there are two statues dedicated to him outside of the Cardinal's Busch Stadium. He spent all of his 22 MLB seasons with the same club. Musial holds virtually every Cardinal's batting record, including hits, home runs, RBI's, and batting average. He was a three time World Series champion, three time MVP, seven time batting champion, a 24 time all-star and a first ballot Hall of Famer.
                Stanley Frank Musial was born in Donora, Pa., on Nov. 21, 1920 to Lukasz and Mary Musial. He attended Donora High School, and at age 18 he signed a minor-league deal with the Cardinals despite his father's preference for him to attend the University of Pittsburgh on scholarship. He married Lillian Labash, his high school sweetheart, in St. Paul's Church in Dayton Beach, Fla. on May 25, 1940. Their marriage lasted over 70 years until her death in May 2012.
                Musial's baseball career was briefly interrupted while he served in the United States Navy from January 1945 until March 1946. He was deployed in Maryland, Philadelphia and Hawaii during his time in the service.
                In his post-baseball life, he was a director of Southwest Bank in St. Louis, co-owner of the restaurant "Stan Musial & Biggie's" and was a charter member of the National Polish-American Sports Hall of Fame.  Fun-loving and good-natured, Musial was known for playing his harmonica to entertain at functions and for his tendency to perform magic tricks for sick children.
                He is survived by his four children, Richard, Gerry, Janet and Jean.  A funeral service was held on January 26 at the Cathedral Basilica in west St. Louis.
                Musial was a man loved locally but never revered nationally, and perhaps ESPN's senior baseball writer Tim Kurkjian put it best by saying: "His nickname was The Man, and he was in every way. Musial was the greatest Cardinal ever, one of the greatest players ever and perhaps the most underrated player of all time."
Tuesday, 19 February 2013 06:10
San Bernadino, CA- Christopher Dorner died on February 12th, 2013 from a self-inflicted gunshot wound to the head. He was born in 1979 and lived in Los Angeles his entire life. He attended the Southern University of Utah where he majored in psychology. He also played football for the University.
The Los Angeles Police Department had been searching for Dorner since February 7th when he decided to act on a decision to avenge the police department for his wrongful dismissal in 2009. Law enforcement officers kept watch over 50 families around the clock once Dorner stated in his 6,000 manifesto that he planed to wage war on these families and their kin. He believed these people were the cause of his dismissal from the force five years ago, and felt that revenge was the only option.
Dorner was a decorated officer, having earned the National Defense Service Medal, Iraq Campaign Medal, Navy and Marine Corps Overseas Service Ribbon, The Navy Expert Pistol Shot Medal, and many others.
Earlier in the week, a young couple was startled when they found Dorner hiding in their cabin in the woods. He told the couple that he did not want to hurt them, but wanted to clear his name. He then proceeded to steal their car to get away. He is also suspected to have killed four people; a young woman and her husband to get back at the woman's father, and LAPD Police Office Michael Crain.
Despite the circumstances, many people are supporting Dorner and the beliefs from his manifesto. Dorner believed that he was let go due to racism and unfair treatment from his fellow officers. A group rallied outside of the Los Angeles Police Department on February 16th, showing their support for the ex-cop.
By: Victoria Buch
Tuesday, 19 February 2013 02:45
Jazz musician Donald Bryd died at the age of 80. He was a leading trumpeter of the 1950s who worked with many top artists of his time. He was best known for being one of the few bebop jazz musicians who successfully introduced the funk and soul genres while remaining a jazz artist.
He died February 4 in Delaware, according to Haley Funeral Directors in the Detroit suburb of Southfield, Mich., which is handling arrangements. It did not have details on his death.
Byrd was a father in jazz education, attended Cass Technical High School in Detroit, played in military bands in the Air Force and moved to New York in 1955. He became one of the most in-demand trumpeters in New York and played alongside many famous musicians such as Max Roach, Sonny Rollins, John Coltrane, and Thelonious Monk.
In 1958, Bryd signed a recording contract with the Blue Note label an formed a band with a fellow Detroit native, Pepper Adams. The band became one of the leading hands of hard-bop style, which evolved from bebop blended with R&B, soul and gospel.
In the 1960s, Byrd received his master's degree from the Manhattan School of Music. He studied in Paris with Nadia Boulanger, and became the first person to teach jazz at Rutgers University in New Jersey, and started the jazz studies department at Howard University in Washington D.C.
Byrd began to move from jazz to a more commercial sound with the funk-jazz fusion. He released albums and received many criticisms from the media. "I'm creative; I'm not re-creative," Byrd told the Detroit Free Press in a 1999 interview. "I don't follow what everybody else does."
Bryrd began to attend law school at night and received a law degree in 1976. In 1982, Byrd, received his doctorate from New York Teachers College, Columbia University. He turned his attention from performing to educating. He became a distinguished scholar at William Paterson University and Delaware State University.
In the late '80s and '90s, he performed for several albums for the Landmark label.
In 2000, the National Endowment for the Arts recognized Byrd as a Jazz Master, the nation's highest jazz honor.
Death of American Country Singer Mindy McCready
Tuesday, 19 February 2013 02:24
By: Meghan Walsh
Beloved American country singer Mindy McCready was found dead Sunday February 17, 2013 in her Heber Springs home in Arkansas. She was 37 years old. An autopsy is planned to find that exact cause of death but it appears to professionals that it was a self-inflicted gunshot to the head. She was found dead on the front porch of her home. She appeared to be home alone at the time of the incident, with the exception of her dog, who officials say was killed by gunshot prior to McCready's death. Mindy left behind two young sons, Zayne and Zander, who are now in foster care.
The actress has allegedly struggled with alcoholism, drug abuse and mental illness. She was also said to have attempted suicide three times before. McCready was most recently in the media a few months ago comment on the alleged suicide of her boyfriend, record producer David Wilson. Wilson was said to have also died from a self-inflicted gunshot to the head on the front porch of his Arkansas home.
McCready's career skyrocketed in the mid-90s, when she was still a young teen. Best known for her song "Ten Thousand Angels," which went double platinum in 1996. The album sold 2 million copies. She is also well known for producing "Guys Do It All The Time," later that same year. After a golden year in the 90s, 14 songs and six whole albums on the country Billboard charts, McCready's reputation in the media has been in a downward spiral. Her struggles with drugs, alcohol, and mental illness have been publicized in recent years.
More details in regards to McCready's death are still under investigation, as is the death of David Wilson. As many country fans mourn the loss of their beloved country princess, McCready's publicist openly asks for her family to be left alone at this time. A memorial service is going to be held in her hometown of Nashville, Tennessee.
Influential New York City Mayor Dies
Tuesday, 19 February 2013 01:44
Edward Irving "Ed" Koch, the three-term mayor of New York, most notably remembered for rescuing the city from near financial ruin, passed away Feb. 1, 2013, at New York-Presbyterian hospital, due to congestive heart failure. he was 88.
Koch was most widely know for his political professions such as member of the United States House of Representatives for New York's 18th and 17th districts for a total of two terms (1969-1977) and as mayor for 11 years (1978-1989). In those he made his name with his unique leadership style: combative, witty and an overt expression of his unbending opinions. He was never afraid to say what he really thought.
Though Koch himself was a liberal and upheld most of there values, he sought to find the best solution to a problem witch sometime meant doing what was unexpected for a politician: agree with the opposite party. For example, he endorsed Republican politicians such Rudolph Giuliani and later George W. Bush. This was typical Koch as the public grew to know him so well, because he was never afraid to speak his mind. Friend and spokesman George Arzt told the LA Times, "Ed was very much a straight-shooter, a champion of the middle class, a moderate Democrat akin to a Harry Truman. He defied categories."
Koch was born Dec. 12, 1924, in The Bronx, New York City to his parents Joyce and Louis Koch who immigrated from Poland. He was Jewish but not as conservative as his parents were.
After fighting in World War II earning a rank as high as sergeant, koch returned to New York and attended City College and New York University law school. He practiced law (reaching Partner at a firm he helped found) until he ran for city council, thus starting his career as a politician.
Koch has immersed himself in a number of disciplines besides law and politics. They include columnist, author, radio show host, playwright, movie reviewer and lecturer and appeared relentlessly in the media, with  his iconic New York accent.
He also appeared in many advertisements endorsing such products as diet aids and soft drinks, but it did not even stop there. His love for the public spotlight saw him featured as a cameo in popular television shows such as "Sex and the City" and the 1984 film "The Muppets Take Manhattan."
Koch also included author into his occupational repertoire. he wrote or co-authored 17 books, including eight autobiographies, two children's books and multiple mystery novels starring himself as the detective.
Throughout his Career his sexuality was questioned because he kept his romantic life out of the public eye. He always avoided talking about it during his career but in retirement he reaffirmed that he was heterosexual. However, he never publicly dated anyone, was never married, had no children.
If one was able to ask Koch how he would respond to his famous quote "How'm I doin'?" now that he is gone from this earth, he would respond with wit, but still getting the point across that he did what was in the best interest for his beloved city.
"I don't want to leave Manhattan, even when I'm gone," Koch told The Associated Press. "This is my home." He gave it all for his home and because of that he will always be remembered as one of its greatest leaders. He therefore fulfills his sentiment that he will
never leave the city, even when he is gone.
Jovan Belcher Kills Girlfriend, Then Himself
Tuesday, 19 February 2013 01:39
Country Singer Succumbs to Mental Illness
Tuesday, 19 February 2013 01:22
By Abigail Wolfgang
Malinda Gayle McCready, better known as Mindy, died this week at the age of 37. The well-known country star, born in Fort Myers, Florida, succumbed to her struggles with mental health illness and committed suicide. She was found shot alongside her dog on her Arkansas home's front porch.
Mindy had always been at the center of the news for her child custody battles, police investigations, drug issues, and multiple mental health problems, often overshadowing her musical career.
Mother to eight-year-old, Zander, and nearly one-year old Zayne, Mindy was no stranger to controversy.  The star was linked to the famous and married baseball player Roger Clemens at the young age of 15, and even had a sex tape scandal.
At the age of 30, Mindy's boyfriend William Patrick McKnight was arrested for attempted murder when he beat and choked her.  In the following year of their relationship, McKnight witnessed two of her many attempted suicides.
Along with mental health issues, Mindy battled with drug abuse problems, finding herself on Celebrity Rehab and then hospitalized of an overdose in 2010.
Mindy's legal issues included a DUI, the use of false prescriptions for painkillers, identity theft, battery of her mother, and multiple jail stays.
Most striking about Mindy's suicide is that her youngest son's father, record producer David Wilson, was found shot on his front porch only a month earlier. 
The death of Mindy and her ex, Wilson, will continue to be investigated.  Both of Mindy's children are currently in foster care, but the older son's father, McKnight, hopes to gain custody of his son.
Sadly, the tragedy of Mindy's life seemed to be more newsworthy for the public than her very successful release of four albums and 12 Billboard singles.  Mindy's seven years of voice lessons led her to a recording contract, and  placed her on stage with superstars George Strait, and Tim McGraw, but her life was a constant struggle.
Many other country singers have offered their condolences to the McCready family acknowledging the seriousness of mental illness including Carrie Underwood, and Wynonna Judd via their twitter pages.
Mindy's family members, friends, and fans plan to celebrate her shortened life at a Nashville memorial.  The date and time of the event are currently unknown.
For those who grieve the loss of Mindy, her words found on her Facebook fan page may serve as some comfort, "In life I believe everything happens for a reason, even when I don't understand I still believe there is a perfect plan for everything...every laugh, every tear, every moment, I love the dance..."
Tuesday, 19 February 2013 00:58
By Toni Gasparis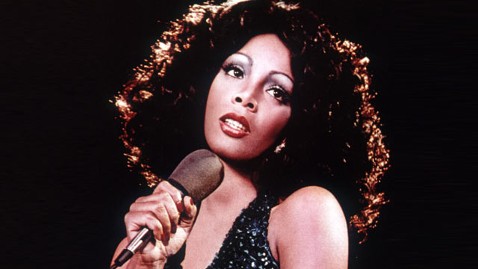 Image Credit: http://a.abcnews.go.com/images/Entertainment/gty_donna_summer_jp_120517_wblog.jpg
Donna Summer, rightly named the "Queen of Disco," passed away on May 17, 2012. Although specifics can only be speculated, her cause of death was lung cancer that she had been fighting for years: some reports say the cancerous trigger was from her "inhaling toxic particles after the 9/11 attack in New York City."
Summer became famous because she was one of the central voices from the 1970s. Between 1976 and the 1980s she cranked out album after album, success after success: her disco tracks were exceedingly popular number one hits, such as "Hot Stuff" and "She Works Hard for the Money."
A born and raised Boston native, Summer got her first debut in church. A woman that was supposed to sing in Summer's church did not show up and the priest, knowing Summer's love of singing, asked her to be the replacement. Her powerful vocals wow-ed the congregation even at the age of 10.
From the moment she sang in church she knew this is what she wanted to do with her life: "…I felt like God said to me, 'Donna, you're going to be very, very famous.'"
A generation later, in Germany, she recorded her first album titled Lady of the Night, which was a hit only in Europe. But then in 1975 she recorded her song "Love to Love You Baby" and soon after it became an immediate U.S. hit—heading up to number two seemingly overnight.
The rest is history. Even though Summer's popularity steadily decreased along with the era of disco, sparkly bell bottoms and platform shoes her legacy lived on and made her an eternal celebrity in the world of music. She will forever live on with the title the "Queen of Disco"—her iconic songs, phenomenal vocal range, and her overall powerful voice will never be forgotten.
Page 1 of 3